By Mikhail Karasik
St. Petersburg: M.K. Publishers, 2012. One of 12 copies.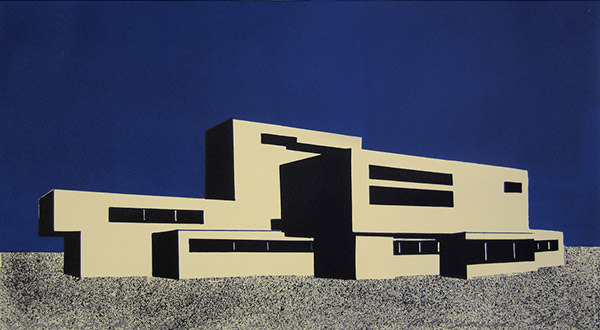 According to the artist, Homage to Khidekel is an attempt to interpret designs and drawings of the artist and architect Lazar Khidekel (1904-1986). Khidekel was a pupil of the Suprematist artist and theorist Kasimir Malevich and went on to formally study architecture. While he tried to incorporate Suprematist and Futurist aspects into his architectural work, the cultural climate of Stalinist Russia turned against the avant garde and much of his commissioned work had to conform to state sponsored aesthetics.
In this suite of prints Karasik also pays tribute to the beauty he finds in simple tools such as a protractor and spears.
Born in 1953, Mikhail Karasik is one of contemporary Russia's most famed and respected creator of artists books. He has been producing artists books since 1987. He recently had an exhibit in the State Museum of Architecture in Moscow and in September 2013 he will have a solo exhibit at the St. Petersburg Museum of the Avant Garde that will include another copy of Homage to Khidekel.