Government & Geographic Information and Data Services Computers
Computers
Four computers with GIS software applications are available in the Gov Info department reference room. The workstations are available on a first-come first-serve basis. Please provide your own storage media (external hard-drives, such as flash drives). The computers also come with a CD & DVD burner/writer. Do not store data or projects on the computer hard drives as anything saved on them may be deleted.
Printers & Plotter
The workstations are connected to laser printers (HP color LaserJet 2500 & HP Laserjet 4200) that can produce letter size (8 1/2" by 11") printouts.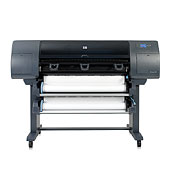 We also have a large format color plotter, HP Designjet 4500ps Printer (Q1272A), (width up to 42"!) We charge $0.20 per inch length plus $0.25 per job (use a printer card to pay.) For more information about the plotter, please read our plotter user guide, or contact govinfo@northwestern.edu
Map Copier
We have a large-format copier, Océ 7056, that is able to produce black and white copies up to 36" wide, which is suitable for copying maps. We charge $1.50 per sheet - and accept cash only (sorry!)
Software - GIS

Our workstations are equipped with popular GIS software by ESRI, ArcView 3.1, the latest ArcGIS (ArcView edition) and also three extensions for ArcGIS. Other popular and sometimes free GIS applications are also available, including MyWorld GIS designed by the GEODE Initiative at Northwestern University! Try them all!
ESRI ArcView 3.1
One of the earliest Desktop GISs by ESRI- no longer available for purchase from ESRI. We keep the software for people who are not yet familiar with ArcGIS (8.x -) No additional extensions are included but this software comes with basic utility tools (Import, Import71 & MIF-to-Shape.)
ESRI ArcGIS 9.3.1 (ArcView edition)
Probably the most popular desktop GIS in the U.S. This latest ArcGIS Desktop gives you the power to manage and integrate your data, perform advanced analysis, model and automate operational processes, and display your results on professional-quality maps. We also have ESRI Data & Maps 9.3, which includes global GIS dataset as well as comprehensive street data for North America (perfect for geocoding.)
ESRI ArcGIS 9 Extensions
3D Analyst, Spatial Analyst, Geostatistical Analyst, Network Analyst & ArcScan.
My World GIS
http://www.myworldgis.org/
My World GIS™ is a Geographic Information System (GIS) designed by the GEODE initiative at Northwestern University specifically for use in educational settings. My World allows learners to explore and analyze geographic data about our world.
AccuGlobe 2007
http://www.accuglobe.net/
Free desktop GIS by DTTI. AccuGlobe Desktop 2007 includes standard GIS functions including GIS data viewing, editing and thematic mapping with on-the-fly projection feature.
GeoDa
http://geodacenter.asu.edu/
Free program developed by Dr. Luc Anselin. It is designed to implement techniques for exploratory spatial data analysis (ESDA) on lattice data (points and polygons).
Software - GIS Tools
back to top
GIS tools/utilities, such as an excellent GIS data conversion tool, FME, are also available.
Safe FME Universal Translator
http://www.safe.com/products/fme/
GIS data format conversion tool. FME (The Feature Manipulation Engine) is an integrated collection of spatial ETL (Extract, Transform, and Load) tools for data transformation and data translation. We receive the latest edition.
Last updated: March 30, 2010