Room 3746
Room 3746 is available to members of the Northwestern community for laptop, multimedia presentations and video conferencing. It is not available for use as a regularly scheduled classroom that does not require the use of this equipment, or for events that charge admission.
Room description & equipment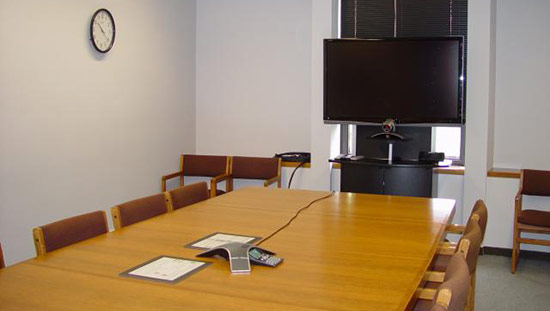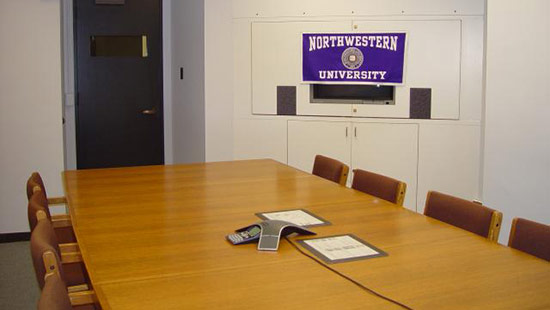 Library Room 3746 is furnished with one long conference table and moveable chairs. A cabinet in the room houses the equipment listed below.
The room is locked at all times. For access, use the intercom telephone on the wall just outside the room. Press the "call" button for the door to be unlocked. If the door is propped open, an alarm will sound after 30 seconds.
Audiovisual equipment
Sharp 52" flat panel display
Multi-format DVD
1/2" VHS videotape
Laserdisc
CD audio
Computer equipment
Seminar Room 3746 houses a resident Dell Optiplex 790 computer: 4.0 GB; 3.10 GHz.
For laptop, please provide your own laptop and adaptors, if necessary, to the VGA cable
Ethernet cable
Sound cable
Crestron touch screen for source selection of either the resident computer or a laptop
Software on 
Dell Optiplex 790 computer  
Microsoft Windows 7
RealPlayer; QuickTime; Windows Media Player
Adobe Reader
Browsers: Internet Explorer; Firefox, Chrome
Miscellaneous equipment
Acoustic sound panels
Crestron touch screen for source selection
Conference call telephone
Chalkboard
Florescent lighting
On-campus telephone
Call-in telephone number for teleconferencing:  847-467-1861
IP address for the room's Polycom teleconferencing unit:  129.105.110.80
Schedule the room
Contact Mitchell Multimedia Center staff in advance at 847-491-7770 or at nulmedia@northwestern.edu, Monday - Friday, 8:30 am - 5 pm. You may also schedule the room through the Microsoft Outlook Calendar.
At this time, you should also:
Reserve laserdisc screenings
Specify if you will need to videoconference or what format will you need (DVD, VHS or computer projection)
Back to top