University Library Level 1
University Library Level 1
John P. McGowan Information Commons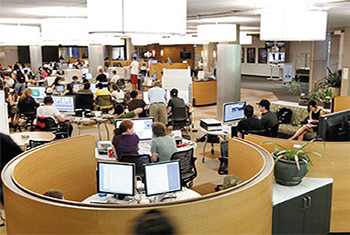 Located at the entrance to the Library, it is a "first stop" for many students, one where they can engage in independent inquiry or small group study. The comfortable and modular arrangement provides a welcoming social environment.
In addition to PCs, Macs and standard printers, this space includes media editing software, vocal recording booth, a large format poster printer, scanners and plasma screens to connect your laptops. Reserve media station Macs, recording booth or IC Project Room for group work
Main Entrance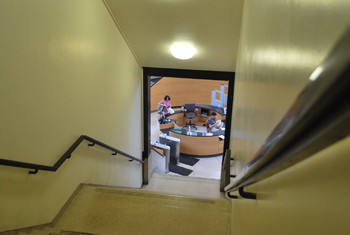 The Main Entrance is the only 

entrance/exit available to the public in University 

Library, except in the unlikely event of an 

emergency.

Provides quick access to the second 

fl

oor student lounge, vending machines, and the 

Forum Room.
Circulation (Borrowing)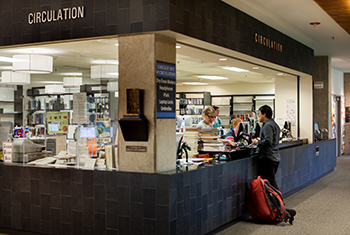 Circulation staff are available to help users with all procedures related to checking out and returning books.
We provide a variety of services to assist you in your research, such as tips on how to find your materials. Circulation staff is available to help you if you still can't find them.
Course Reserve and Interlibrary Loan material are available for pick up here.
1South
Flexible study space with a wide variety of seating options for studying alone or collaborating with others. This space provides access to reservable study rooms and media:scapes for group screen sharing. One Button Studio for presentation practice and recording, and plenty of access to power.
Reserve One Button Studio or 1South Project Room.
Periodicals and Newspapers Reading Room / Reference Collection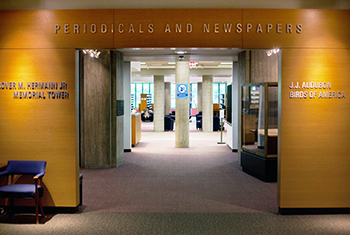 Quiet study zone with plenty of 

powered tables and open study carrels. Current 

issues of more than 2,800 periodical 

ti

tles. 
More than 200 daily domes

ti

c, and interna

ti

onal newspapers, such as The Chicago Tribune and a 

special emphasis on African newspapers. 

Current general interest magazines and 

periodicals such as 

The New Yorker

 and 

Rolling 

Stone."
Back to top