Collections Care
The Preservation Department offers a broad range of services designed to preserve and maintain both general and special collections. 
Shelf Preparation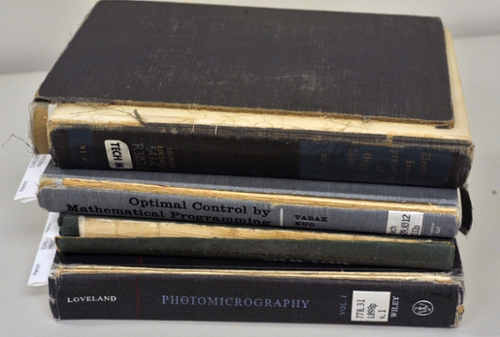 A well-integrated program of shelf preparation is one of the most cost-effective means of maintaining the long-term health of collections. It ensures that items are added to the collection in good condition and takes care of small problems before they become major liabilities.
All items added to the general collection, including new purchases as well as gift books and historical collections of older material, are reviewed by Preservation Department staff.  Items are assessed for their ability to withstand normal use and circulation. Staff determine which items require binding, repair or other treatment (such as the addition of a pocket for loose materials or the tipping in of an errata) before applying a call number, bookplate and property stamp.
Commercial Binding
The Preservation Department binds over 25,000 volumes each year. This includes the binding of new library materials such as complete volumes of periodicals as well as  the permanent binding of paperback monographs. High use items from the general collection, which may become damaged as a result of frequent circulation, are also sent to the commercial bindery.
The Preservation Department works closely with The HF Group to ensure that volumes are bound within current preservation standards. Upon return from the commercial binder each volume is checked for quality control.