Roxanne Sellberg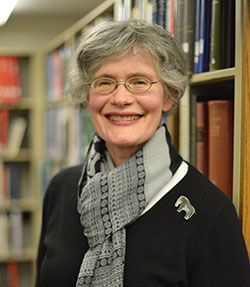 Roxanne Sellberg is the Associate University Librarian for Research and Administrative Strategies.
As one of the Libraries' senior leaders, Ms. Sellberg advises and assists the Dean of Libraries, represents the University Libraries in internal, university, and consortial contexts, and works with other leaders to ensure excellence in all library operations and services. She is primarily responsible for strategizing to advance the Libraries' capability and performance in research support, scholarly communication, financial, and administrative operations. She provides leadership to Business Operations and Support and Planning and Assessment.
Since beginning at Northwestern in 1995, Ms. Sellberg has served at various times as Head of Technical Services, Voyager Implementation Project Manager, Personnel Librarian, Acting Financial Manager, Collection Development Officer, Head of Collection Services, Acting Public Relations Director, and Head of Administrative Services. Ms. Sellberg is active in the American Library Association, the Association for Library Technical Services, and the Library Administration and Management Association. She is author of several published journal articles and book chapters and has been an occasional guest columnist for Technicalities.
Ms. Sellberg earned her bachelor's degree from Wichita State University (history), her master's degree from UCLA (library and information science), and a specialist degree in academic library administration from Indiana University, Bloomington. Prior to beginning at Northwestern, she held librarian faculty positions at the University of Nebraska, Indiana University, and the University of Washington.