Exhibits commemorate WWI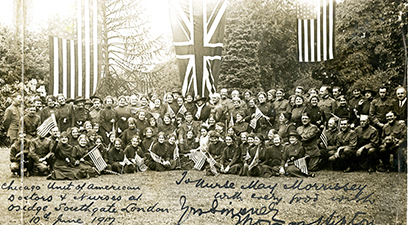 To honor the centenary of the U.S. entry into World War in 1917, University and Deering Libraries launched a new exhibit, both online and at both Evanston library locations. "Northwestern Remembers the First World War" draws from several of our collections to tell the story of how World War I impacted Northwestern and the Chicago community. It runs through June 16, 2017, but will still be viewable throughout Commencement weekend.
For those who can't visit Evanston to see the exhibit in person, an online exhibit provides an easy way to browse the many materials on display.
The exhibit uses documents, photos and artifacts from University Archives to reveal the lives of students and faculty serving in Europe and supporting the home front. In particular, it recounts the history of U.S. Army Base Hospital 12, an early war effort organized by Dr. Frederick Besley of Northwestern's Medical School that was staffed largely by doctors and nurses from our Medical and Dental Schools.

It also features a colorful array of wartime propaganda posters, drawn from our Government and Geographic Information Collection, that rallied a country to support the war effort.

This exhibit was made possible in part from a generous grant from the Pritzker Military Museum & Library, the Chicago-based research library that is also a founding sponsor of the United States World War One Centennial Commission, which develops programs and materials commemorating the one hundredth anniversary of the war. The Pritzker support enabled the library to not only mount this exhibit and develop the online exhibit, but also to digitize a large portion of our WWI holdings. You can view that collection in the Images Repository.
Photo: The staff of Base Hospital 12 stops in London in June, 1917, en route to Camiers, France. Sir Thomas Lipton, center, the grocery magnate and tea purveyor, was a major supporter of hospital and relief efforts during the war.