Acclaimed poets to honor Gwendolyn Brooks at Northwestern events
Acclaimed poets to honor Gwendolyn Brooks at Northwestern events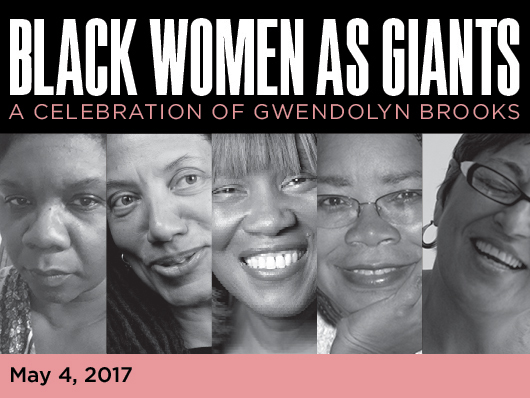 Gwendolyn Brooks, one of the most influential poets of the 20th century, will be recognized by contemporary poets with a day of literary events on May 4 hosted by the Northwestern University Press.
"Black Women as Giants: A Celebration of Gwendolyn Brooks" begins with a morning roundtable with five accomplished poets — Toi Derricotte, Nikky Finney, Vievee Francis, Angela Jackson, and Patricia Smith —to discuss the impact of Brooks on their work as well as on contemporary poetry more broadly. An evening poetry reading will highlight original work by the poets.
Roundtable: May 4, 10:00 am, Lutkin Memorial Hall
The five guest poets will discuss the far-reaching effects of the career of Gwendolyn Brooks, the beloved poet whose Annie Allen won the 1950 Pulitzer Prize for Poetry, and who served as Illinois' Poet Laureate from 1968 to her death in 2000. The roundtable will be moderated by Parneshia Jones of Northwestern University Press, herself an award-winning poet and short story writer.
Poetry reading: May 4, 6:00 pm, Lutkin Memorial Hall
Each poet will read from their deep and diverse bodies of work, followed by a book signing.
All are welcome. This celebration is possible with generous support from the Poetry Foundation; and additional support from Northwestern's University Libraries, Center for Writing Arts, Department of African American Studies, Department of English, Poetry and Poetics Colloquium, Women's Center, and Program in African Studies; and in partnership with the Evanston Literary Festival.
For more information, please contact JD Wilson, director of marketing and Sales for University Press, at (847) 467-0319 or at jdwilson@northwestern.edu.