Printing Instructions
Whether you are working at a computer at the library or working remotely, you will print through the NUPrint web portal. A NetID and password are required to log in. You will need to both send a print job, and then release the job from a library printer.
Send a print job from a library workstation
To print from a library workstation, follow the normal procedure for printing from a PC or Macintosh (i.e. click File>Print).
On the print options menu, you will chose B&W or Color.
You can go to any B&W or Color printer to release a job.
Send a print job from a laptop, phone or tablet outside the library
Login to NUPrint

 using your NetID 

and password.
Click on the "Web Print" link in the site's left-hand navigation.
Click on the "Submit a Job" link.
Select NUL Libraries and your desired printer.
See how to release a print job below. If you do not release your job within 24 hours of uploading a file to your queue it will be automatically deleted.
How to release a printing job
Submit a print job from library PC, Mac, or using a NUPrint web portal. You will select B&W or Color queue.
Go to a B&W or color printer, depending which queue you chose, in order to release your print job.
Scan the QR code that is next to the printer to identify the printer.
Login to Mobile Release web interface using your NetID & Password (see images below).  This has to be done first time you release a job and we recommend that let your mobile browser manage the password.
Select the print job (s) you would like to release at that printer location.
Pick up your print jobs from the printer.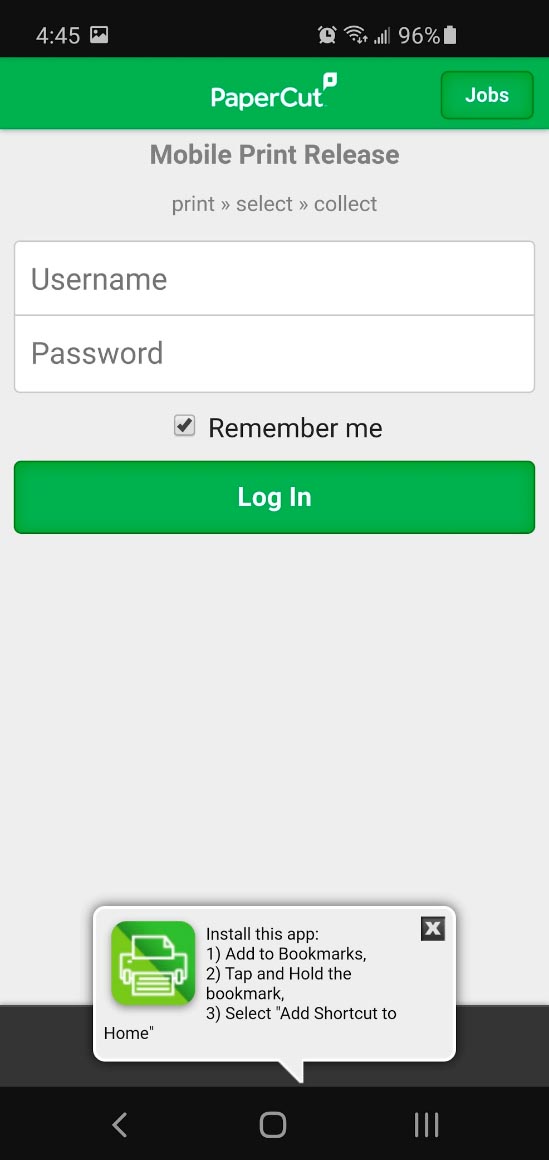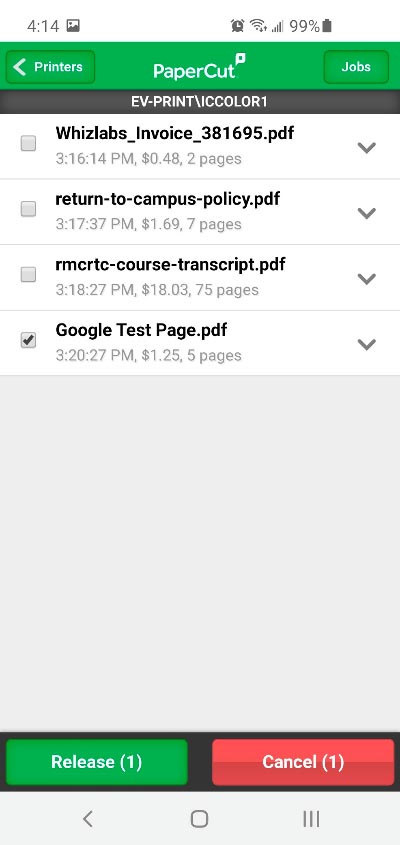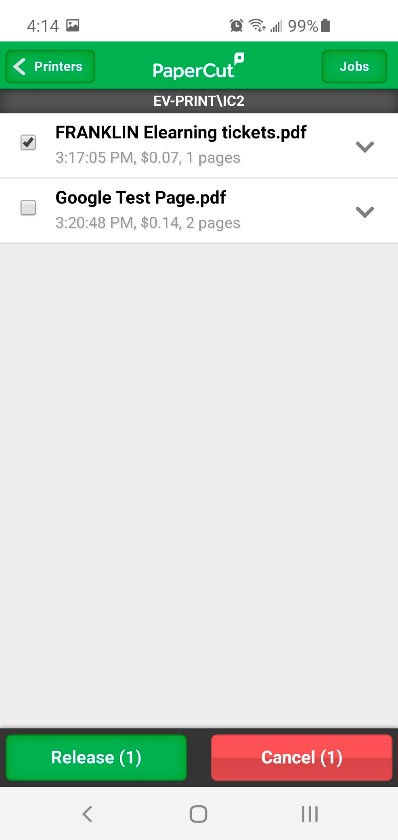 If you don't have a device with a camera or want to use your laptop to release a print job, the mobile release can be found at https://nuprint.northwestern.edu/mr - you will have to identify your printer. Signs in front of the printers will give their location name.
More information  
You can create a web app shortcut or add to Home Screen on your IOS or Android mobile device to quickly and easily release print jobs in the future.  
Upon logging in you will see the jobs that have been submitted from any of the library workstations or via NUPrint Web Print interface.  
Each entry in the list contains the date the print job was submitted, the name of the document, the class of printer to which the print job was sent, and the cost of printing the document.
To print all your print jobs at once, leave all documents checked and press "Release (xx)".
To learn more about a print job, tap on the Fan icon right of print job name to show all details.
To delete/cancel unwanted jobs check the box next to the print job and click "Cancel (XX)".
There is no need to log out from the webapp.