Classrooms and Study Spaces
In addition to our galleries and computer labs, our libraries are home to classrooms and spaces for studying and video viewing.
Reserve a study room or carrel
Students and others may book or apply for certain Library spaces.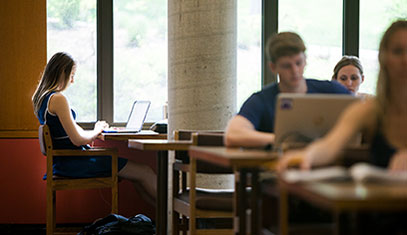 Study Rooms
Several study and project rooms are available in the University Library, Mudd Library and Schaffner Library.Reserve Now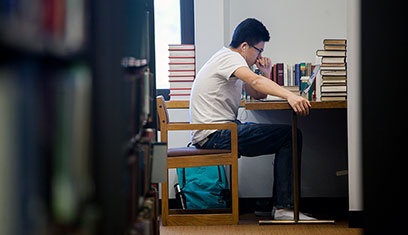 Study Carrels
Graduate students, faculty and certain undergraduates can apply for year-long use of a desk in the University Library.
Learn More
Rooms for classes and groups
University and Mudd Library facilities include seminar rooms, active learning spaces, and video viewing rooms for classes and groups.
Seminar classrooms
Seminar Rooms can be reserved Monday through Friday, 9 am to 5 pm, through the Registrar's Office. After 5 pm and on weekends, they are considered study rooms and reserved through the Library's reservation system.
Find the locations of classrooms on the University Library's third, fourth and fifth level towers.
| | |
| --- | --- |
| Classroom Number | Level and Tower |
| 3322 |  3 North |
| 3370 | 3 North |
| 3622 | 3 East |
| 3670 | 3 East |
| 3722 | 3 South |
| 4646 | 4 East |
| 4670 | 4 East |
| 4722 | 4 South |
| 4770 | 4 South |
| 5322 | 5 North |
| 5722 | 5 South |
| 5746 | 5 South |
Note that room numbers ending in 22 are to the left as you enter the tower, and room numbers ending in 70 are to the right. Room 5746 is across the tower from the entrance, near the stairway.
Active learning classrooms
Equipped with multiple projections screens and flexible furniture, the active learning classrooms are designed for interactive, student-centered learning experiences. Rooms can be reserved by Northwestern faculty and graduate students.
Innovation Lab (University Library, B183)
Mudd 2122 (Mudd Library, Level 2)
Mudd 2124 (Mudd Library, Level 2)
Review room details and booking instructions.
Video viewing rooms
Faculty, staff and verified teaching assistants (TAs) can schedule one of our three video viewing rooms for use by Northwestern classes and groups:
Receptions and events
Northwestern University faculty, administration and Library staff can reserve the Ver Steeg Faculty Lounge for special receptions and other formal social events.
Drinks and catered food can also be served at the Student Lounge on the 2nd floor's South Tower, where 6' panel tables can also be reserved and set up.