Classrooms and Study Spaces
In addition to our galleries and computer labs, our libraries are home to classrooms and spaces for studying and video viewing.
Reserve a study room or carrel
Students and others may book or apply for certain Library spaces.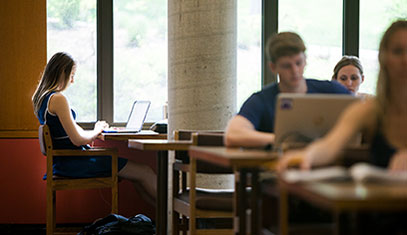 Study Rooms
Several study and project rooms are available in the University Library, Mudd Library and Schaffner Library.Reserve Now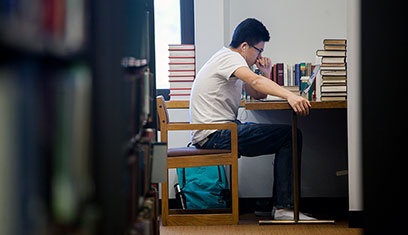 Study Carrels
Graduate students, faculty and certain undergraduates can apply for year-long use of a desk in the University Library.
Learn More
Study Spaces
Collaborative
Collaborative area with day-use lockers, white boards, moveable chairs and tables, and screen sharing options.
Quiet
Quiet study areas with study tables and individual comfy seats. Closed study carrels in the research towers are reserved for graduate students and faculty.
Lockers
Students, faculty, staff and visiting scholars can apply for assigned lockers in University Library or store personal items in day-use lockers in University Library and Mudd Library.
Review locker policies and application instructions.
Classrooms
Seminar classrooms
Seminar rooms are located in University Library and can be reserved Monday through Friday, 9 am to 5 pm through the Registrar's Office.
Review room list and booking instructions.
Active learning classrooms
Equipped with multiple projections screens and flexible furniture, the active learning classrooms are designed for interactive, student-centered learning experiences. Rooms can be reserved by Northwestern faculty and graduate students.
Innovation Lab (University Library, B183)
Mudd 2210 (Mudd Library, Level 2)
Mudd 2124 (Mudd Library, Level 2)
Review room details and booking instructions.
Video viewing rooms
Faculty, staff and verified teaching assistants (TAs) can schedule one of our three video viewing rooms for use by Northwestern classes and groups:
Receptions and events
Northwestern University faculty, administration and Library staff can reserve the Ver Steeg Faculty Lounge for special receptions and other formal social events.
Drinks and catered food can also be served at the Student Lounge on the 2nd floor's South Tower, where 6' panel tables can also be reserved and set up.