Sarah Pritchard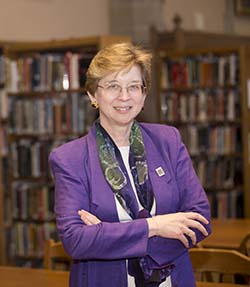 Sarah M. Pritchard is the Dean of Libraries and the Charles Deering McCormick University Librarian.
She administers the University Library, Deering Library, Seeley G. Mudd Library, the Schaffner Library on the Chicago campus, and the Oak Grove Library Center in Waukegan. Pritchard also has oversight of the Northwestern University Press and manages shared services with the law, medical and NU-Qatar libraries.  Her prior positions include University Librarian at the University of California, Santa Barbara; Director of Libraries at Smith College; associate executive director at the Association of Research Libraries; and several positions in reference and collection development at the Library of Congress, including LC's first subject specialist in women's studies.
Pritchard received her B.A. degree in French & Italian with high honors from the University of Maryland, and master's degrees in French and in Library Science from the University of Wisconsin-Madison.  
She has held numerous offices in library professional associations and consortia, and served four terms on the council of the American Library Association. She has published over 70 articles and reviews, and was on the founding board of portal: Libraries and the Academy, and its editor for six years. She has lectured and consulted internationally on library management, women's studies, digital systems, collection development and other professional issues.
Pritchard is a member of Phi Beta Kappa and the recipient of the American Library Association Equality Award, the Career Achievement Award in Women's Studies from the Association of College and Research Libraries, the distinguished alumna award from the University of Wisconsin School of Library and Information Studies, and several awards for her work at the Library of Congress.