NU Votes tool gives helpful tips for registration and voting
NU Votes tool gives helpful tips for registration and voting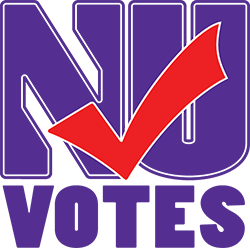 The 2020 election is only weeks away – make sure you're ready to vote! If you're a first time voter or you've moved since the last election, you need to register or update your registration. And if you want to want to vote by mail (the safest way to vote during COVID-19) you need to request your ballot. Voter registration and ballot request deadlines begin to close in early October, so act now! NU Votes can help:
Learn more: Check out the online 2020 Presidential Election Education Guide to answer all your questions about the upcoming election, how to register and vote in all 50 states, how to educate yourself about what's on the ballot, and more. Plus stay tuned to NUVotes.org for events throughout the election season.
Northwestern votes! Our turnout rates are some of the highest in the nation. But this year's challenges make it more important than ever to act now to make sure your voice is heard this November!