Equipment for Checkout
Northwestern students, faculty and staff can check out a variety of equipment from the University Library. Checkout time varies by item. For a complete list of equipment visit the guide to Circulating Equipment.

Laptops and iPads
Dell laptops and iPads are available for both short term and long term loans. There are a limited number available, and they are loaned on a first-come, first-served basis. Only one laptop or iPad can be checked out at a time. If you request more than one item, we will fill your request with whichever is available first.
14-day loan: available to faculty, students, and staff with a valid netID.
Quarter loan: available only to Northwestern students, these laptops are due the day after the quarter ends.
These items are in high demand, so we are unable to provide access to Law, Feinberg, or Styberg faculty, staff, or students.
Requesting a laptop or iPad
To request a laptop or iPad, visit the catalog record in NUsearch for the item you would like to request.
Please note, requests for quarter loan laptops are suspended the Monday of finals week and resume the Sunday before the next quarter starts at 9am.
Sign in to your NUsearch account.

Select 'Request' on the NUsearch record.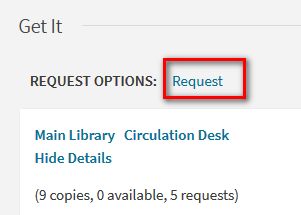 Choose your pickup option. Laptops and iPads can be picked up from the Main Circulation desk of University (Main) Library.
Renewals and returns
Loans for laptops and iPads for 14-day periods can be renewed via email if there is no waiting list. Please email circulation@northwestern.edu to enquire. Due to high demand, we cannot renew quarter loan laptops. They must be returned to the Main Circulation desk at the end of the quarter so that we can make them available to another group of students.