Who is Charles Deering McCormick?
Charles Deering McCormick (1915-1994)
When he was just 17, Charles Deering McCormick spoke at the 1932 dedication of Deering Library, named for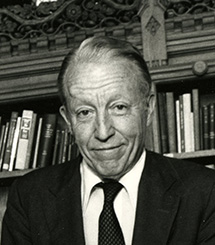 his grandfather, Charles Deering, saying, "We, his grandchildren, hope that we can in some small measure be worthy of the honor which this great University has done his name and memory."

Sixty-three years later, at the 1995 dedication of the Charles Deering McCormick Library of Special Collections, collection curator Russel Maylone affirmed McCormick's desire to be worthy.

"He wanted to make a statement on the side of the intellectual," Maylone said. "And he succeeded. His most endearing gift was a legacy of belief in the human spirit."

Charles Deering McCormick, known informally as "Deering," hailed from a family with a deep commitment to Northwestern University in general, and Northwestern Libraries in particular. The McCormick and Deering families have contributed to more than a century of support at Northwestern, beginning with William Deering's election to the Board of Trustees in 1895 and continuing to today, with McCormick's granddaughter Nancy McCormick serving on the Libraries Board of Governors.

In his lifetime, McCormick and his wife, Nancy Hoskinson McCormick, repeatedly made the Libraries a focus of their philanthropy, including the naming of Deering Tower (the south tower of University Library) and the endowment of the University Librarian position. After his death in 1994, Nancy Hoskinson McCormick directed a gift from the Chauncey and Marion Deering McCormick Foundation to endow purchases in Special Collections, for which the library was named in his honor.

McCormick endowed the University Professorship of Teaching Excellence, a set of annual awards to tenured professors, clinical professors, lecturers and professors of instruction. He served on the Board of Trustees beginning in 1956 — the third generation of his family to serve in that capacity — and was named Life Trustee in 1981.

McCormick was director of the investment firm Miami Corporation from 1951 until his death. He was also a World War II Navy veteran who survived the sinking of the U.S.S. Hornet in 1942.