Environmental Impact Statement Collection
Environmental Impact Statement Collection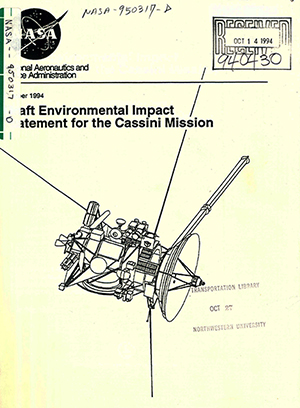 The Transportation Library holds one of the world's largest collections of environmental impact statements (EISs) in the nation. The National Environmental Policy Act of 1969 requires that federal agencies prepare detailed analyses of any of their actions that significantly affect the quality of the environment. Environmental impact statements (EISs) are the result of this requirement. EISs have been produced, since 1969, on virtually every type of activity, from oil and gas development to scientific research in Antarctica, and from protection of wildlife habitat to construction of light rail lines.
The library collection began as a 1992 donation of over 20,000 EIS titles from Northwestern faculty H. Paul Friesema, a leader in the environmental movement who was instrumental in developing the university's program in Environmental Policy and Culture.
Since the initial donation, the library has continued to collect EISs and currently holds over 33,000 titles in print, microfilm, CD-ROM, and electronic formats. EIS titles from our collection digitized by Google are available in full text through HathiTrust and through the library's discovery tool, Transportation Library Collections.